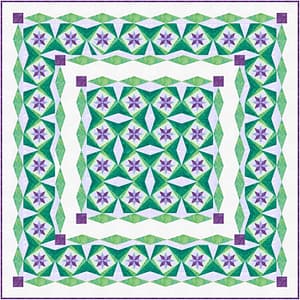 It is time for the EQ8 Block Spotlight again. This month, Jenny challenged our design brains with the Twisted Log Cabin 2.
I decided to use a little Serendipity for this challenge. First, I merged the Twisted Log Cabin 2 with an Eight-Pointed Star. This 8-Point Star Log Cabin made a bit of a floral motif.
Then, to add a little more zing, I used Shrink and Flip.  This created a little movement by flipping and rotating the blocks. The end result looked a bit like flowers climbing a trellis. Four of these blocks were placed in the quilt center.
Diamond borders were added to echo the outlines in the quilt center. A plain border was added to give your eyes a rest. Then, another set of borders combining the diamonds and 8-Point Star/Log Cabin Block.
As many people know, I have an affinity for the color combination of purple and green. Here, the color combination lends itself to the flowers, making the blocks truly look like a clematis vine.
This was a fun exercise! Please keep them coming Jenny.
Happy Quilting!
Laureen