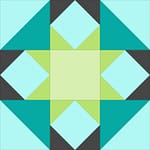 It is my favorite time of the month – the EQ8 Block Spotlight! This month, the spotlight shown on Raspberry Cheesecake. Aside from making my mouth water, this block is relatively simple to make either by traditional or stitch and flip methods. The center looks like a star, but then it has a secondary design from the Half Square Triangles.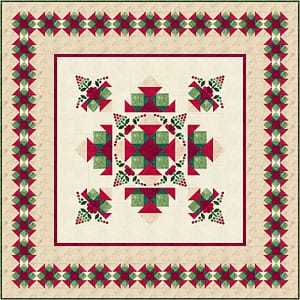 This month, I decided to use the block name as my theme. I picked a second block from EQ8, Hearts and Raspberries, to pair with Raspberry Cheesecake. Hearts and Raspberries is an appliqued block, so the pairing would provide two different forms of quilting. Like music, I use variations in my themes to repeat blocks. In this case, the blocks were cut in half on the diagonal, to provide a different perspective. One of the EQ8 quilt layouts – On-Point Medallion-7 – was perfect as the foundation for this quilt center. The quilt center was then surrounded by five borders, one of which was pieced. These borders frame the center nicely. Finally, I used reds, greens and creams, which made me think of raspberries on the vine and in a bowl with cream. Ok – now I really am getting hungry….
The end result is Raspberry Roundabout! It would be a queen-sized quilt when finished. What do you think? Should I make it?
Happy Quilting!
Laureen