Part of my morning routine is making and drinking a mug of hot tea. It helps wake me up and brings immediate cheer to my morning. I once had a boss who believed I drank a bit too much tea, so I took a hiatus from my morning ritual. By the end of the week, he begged me to pick up that steaming cup of caffeine.
Of course, a large mug of tea, coffee or hot chocolate needs a good mug coaster, unless you like steam rings on your furniture. At a craft show years ago, I bought some scented fabric coasters. They were amazing because the heat released the smell of cinnamon. Talk about a double pleasure. I enjoyed these coasters, until my Newfoundland puppy discovered them and tried to make them into a chew toy…..
Turning lemons into lemonade, it gave me a chance to find out what was in these amazing coasters. They were filled with sand, cinnamon, and vermiculite. Both sand and vermiculite are insulators, so that made sense. The cinnamon provided the wonderful scent. Upon researching the vermiculite, I discovered that it also holds water and oil. It would be a carrier for essential oil without bleeding into the fabric. Hmmm… I could make a replacement!
I spent the morning measuring, sewing, testing, and starting over until I finally made a decent replica. The hardest part was rolling the coaster. Too much fill and it wouldn't bend. Not enough fill and it was flimsy.
Batiks work best for this as they keep the sand and cinnamon from escaping and making dust everywhere. Cut a 4 1/2-inch x 30-inch strip of fabric. With right sides together, sew the long edges together with a 1/4-inch seam. Close one end of the tube with a 45-degree angle. Start at the seam side and taper it inward. Turn the tube right side out. I used a Dritz Tube Turner to make the job a little easier.
Next, make the filling. I used 1/4 cup vermiculite mixed with about 20 drops of cinnamon leaf oil. To the vermiculite, I added 4 tablespoons of ground cinnamon. This would also be good with other warming scents like cloves, cardamom, allspice, nutmeg, and ginger. Then, I added 1/2 cup of sand. Mix all of the filling together and adjust spices as needed.
Now, assemble the scented mug coaster. Pour the filling into the tube and pin the end shut. Starting with the pinned end, roll into a tight pinwheel to make sure the amount of filling is just right. You will need to massage the filling to ensure it rolls properly. Too much filling will prevent the tube from rolling tightly. Too little filling will result in a limp coaster. Adjust the filling as needed, then sew the ends shut. Starting a the previously pinned end, apply hot glue to the seam side and roll the tube tightly into a pinwheel. I applied hot glue a few inches at a time to avoid burning my fingers. My son helped here as he has stronger fingers for the tight roll. Let the glue cool before using.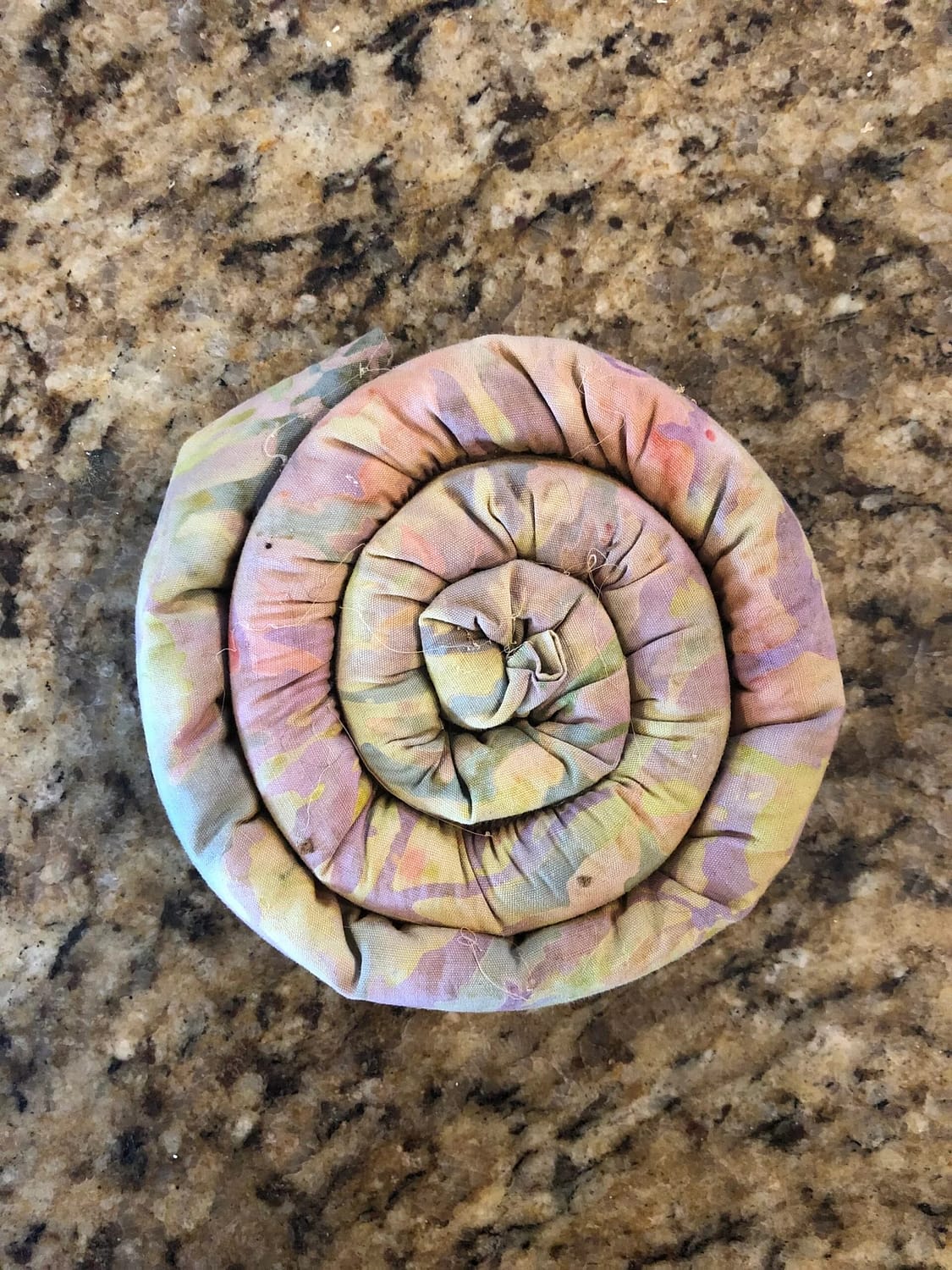 This is a great last minute gift as it took less than 30 minutes to make. I am sure the next few will go faster now that I have a process. Here is a one page set of instructions for you.
If you try this, please let me know how it works. We would love comments and pictures.
Happy Crafting!
Laureen