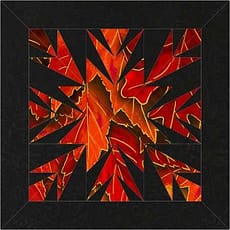 Do you remember playing with kaleidoscopes when you were a kid? They could take an image and distort it into a totally different but very cool image? Well, the design software EQ8 has a feature called "Serendipity" that acts a bit like a kaleidoscope. I used this feature with a maple leaf block to create the Maple Prism block. Sometimes, just playing with a design can bring such beautiful and unexpected results. Using this fascinating block with the gorgeous gradient fabric from Timeless Treasures' Fall Glory collection creates a stunning fall quilt.
Given the unusual triangle shapes in this block, it was easiest to piece using foundations. The nice part is that there are only two foundation sections, so you can develop a rhythm when you make this quilt. One of my testers, Laura Willard, shared her block with me. She used batiks, since the Timeless Treasures fabric hasn't been released yet. Isn't it simply sensational?
Just image how beautiful the Maple Prism quilt will be when made from the Fall Glory collection. Blocks are arranged in three rows of four blocks. Each block uses a different section of the gradient to produce four blocks, which look like they were made from different bolts of fabric. The rows are tied together with the gradient sashing. Then, the Maple Prism quilt is framed with both black and gradient fabric.
If you would like to give Maple Prism a try, the pattern can be ordered or downloaded from our shop. Watch your local retailer for the fabric to hit the shelves (or website).
Happy Quilting!
Laureen