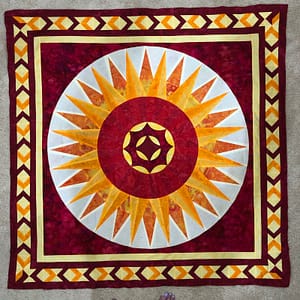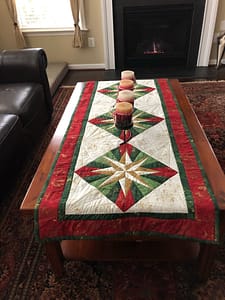 Foundation piecing or paper piecing is one of my favorite methods for making quilt tops. Why do I like it? Foundation piecing has two advantages over traditional piecing:
Makes sharp points!
Can be used to make unusual shapes.
Examples of the sharp points are stars, compasses and other similar patterns. Some of my favorites are my Shining Star Runner and Sun King. These are patterns that would be possible with templates, but so much easier to do with foundation piecing.
Meanwhile, Fuzzy Friends and Frosty Fox have oddly shaped pieces, which are much easier to make with foundation piecing.  To make these quilts in a traditional method would require lots of templates and careful placement of pieces. With my luck, I would spend more time ripping out seams for perfection, than enjoying the process. Foundation piecing has much less guess work.
Foundation piecing can also be used for scraps, which is a fun way to use up one's stash.
Now that I have praised foundation piecing, there are two potential downsides. First, pieces are cut larger than needed to ensure they fit easily. So, they will require more fabric and create more scraps. Of course, you can use these scraps in your next project.
Secondly, foundation piecing can use quite a bit of paper to make the foundation. Even this has a potential upside. There is a lovely technique that can minimize your paper use. Use freezer paper instead of normal paper. To use freezer paper, there are a few things to keep in mind. Typical foundation piecing is printed in the reverse, since you sew on the back side of the foundation. The freezer paper version is sewn from the front of the foundation. So, you will need to transpose or mirror the image before use. Also, freezer paper is limited a little in size. Regular paper is easy to tape together for larger foundations. Freezer paper doesn't work well with tape, because the tape doesn't withstand the heat of the iron. A hot iron is one of the essential elements of the freezer paper technique. So you may not be able to use freezer paper for large foundation.
If the idea of using freezer paper for foundation piecing intrigues you, join me for a free, 1-hour introductory class on 6/15/23. Find more information here!
Happy Quilting!
Laureen