Every quilt has a story. It may be a story told through the blocks chosen by the quilter, the design stitched into it, the occasion or person the quilt is made for, or some thing that happened while the quilt was being made. Whether the quilt is pretty or ugly, warm or thin, crisp or lumpy, pristine or tattered, it has a story.
Forget Me Not quilt pattern has a story. The quilt was inspired by my father-in-law and my grandmother, both of whom had Alzheimer's. Many of you have heard of Alzheimer's and know that it affects memory, but is more insidious than you think. Not only do those afflicted forget relatives names or where they live. They forget what a quilt is or a bed is. They can easily get lost or injured. They can become delusional or angry. Eventually, they become a shell of the person you once knew. Since November is Alzheimer's Awareness Month, it seemed appropriate to unveil the pattern now.
A portion of the proceeds from this quilt pattern will be donated to the Alzheimer's Foundation of America.
"The mission of the Alzheimer's Foundation of America (AFA) is to provide support, services and education to individuals, families and caregivers affected by Alzheimer's disease and related dementias nationwide, and fund research for better treatment and a cure."

https://alzfdn.org/about-us/mission-history/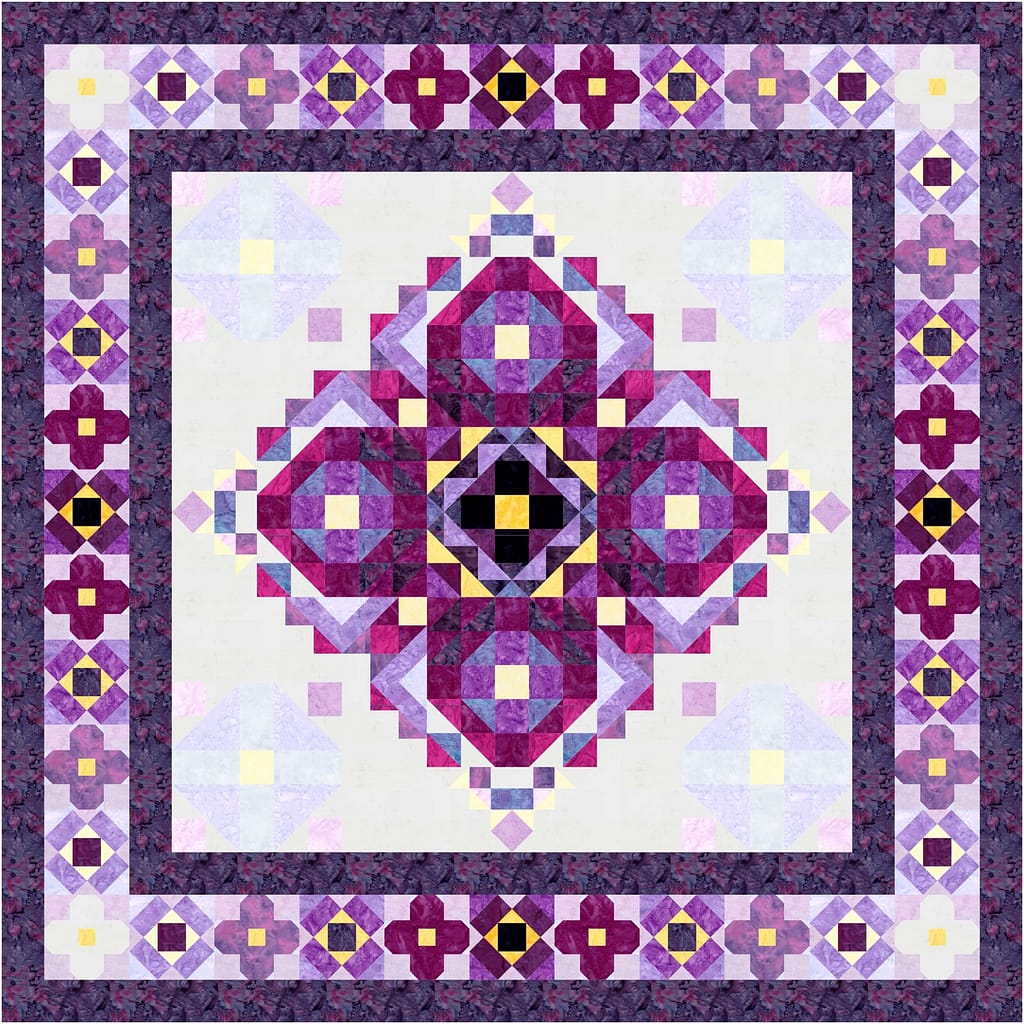 The five blocks in the center of the quilt are colorful and complicated in the center then get paler and simpler toward the edges – like memories. In fact, the blocks are based upon traditional "Memory" quilt blocks. The four blocks in the center medallion made a secondary pattern of a forget-me-not. Surrounding the quilt is a border of forget-me-nots, the symbol of the Alzheimer's. Again, two traditional forget-me-not blocks were used. The finished quilt measure 72-inches square.
The colors are also symbolic, especially during the Alzheimer's walk. People carry purple flowers if they have lost someone to  Alzheimer's. The yellow flowers mean they are a caregiver to someone with Alzheimer's or dementia. Someone carrying a blue flower is living with Alzheimer's. White flowers are symbols of hope for a cure. A variety of purple, yellow, blue, and white Hoffman Watercolor fabrics are used in this design.
This quilt is great for a quilt along. The pattern is currently available in the shop. It is available for retail and wholesale. As soon as all of the fabrics are in stock, I would love to host a quilt along. Please join our mailing list or send a message to lsmith@tourmalinethymequilts.com if you are interested in joining.
Please join me in the helping to find a cure, while caring for those suffering from Alzheimers.
Happy Quilting!
Laureen