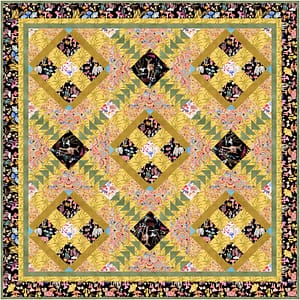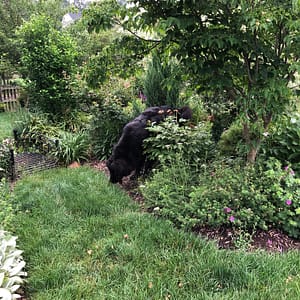 I think Fergus likes the Forest Trails more than I do! Thankfully, I have planted one in the backyard for him to explore.  Fergus isn't the neighborhood bear, although we do have those. Fergus is my 150 lb Newfoundland and best buddy. He keeps me company while I garden, hike, cook, and quilt. We love hiking in the nearby nature preserve as often as possible.
The nature preserve and my garden are inspirations for many of my quilt designs. I try to be "in the moment" and enjoy the beautiful surroundings. That down time allows my brain to time to churn. When I come back to my studio, an idea is generally percolating to the surface. That idea may not be nature related, but it certainly was set in motion on that forest trail.
In fact, one of my latest designs, Forest Trails, was inspired on such a hike. Forest Trails is a two-block quilt with a new spin on some a few old favorites – pineapple and nine patch. Believe it or not the two blocks are not set on point. It is an optical illusion. Step by step instructions and a little foundation piecing will help you make this beauty.  Forest Trails finished at 58″ square, which is a nice throw or large wall hanging.  The quilt features Windham's Deep Forest collection. I love the hues in this fabric.
Forest Trails is available for retail and wholesale from our shop. Pick up your copy today.
Happy Quilting!
Laureen