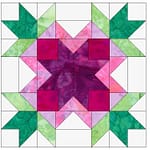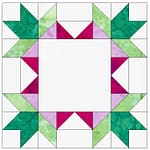 Taking a day to play. Sometimes, we just need to step away for a little bit and catch our breath, unplug. I have four methods: hiking with my dogs, baking, gardening, and designing. My profession can also help me unplug. When I design for fun, there are not deadline, no stress, just play. That is one of the reasons I really enjoy the EQ8 Spotlight. It encourages me to play.
My play date with EQ8 is a little later than usual this month as lots of fun stuff is happening at home right now. (I will share those personal details at a later date when they are more in focus.) The spotlight this month was on the Sixteen Point block. This is an awesome block to use for framing or alone. I chose to do both! Here you will see I used the Sixteen Point block to frame and Eight Point Star, resulting in a Twenty-Four Point block! Can you find the two blocks in the quilt?
Once I had my blocks ready and colored. I was in a bit of a springing mood, which influenced my color choices. They mirror the colors in my garden at the moment. I placed them in an on-point configuration. They looked great, but a little busy. They needed some sashing to give them space, room to shine. I designed a little sash block to give the space but not lose the interest.  Then, I added a border to center it. The result is "Floral Points." Floral Points is a king-sized quilt right now…. Maybe I will reduce the size a little, but for right now, I really like Floral Points! What do you think?
If you are interested in learning more about EQ8, visit their website. The tutorials are great and their customer service is top-notch.
Happy Quilting!
Laureen