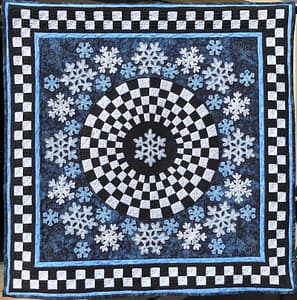 It is no secret to those who have seen some of my patterns that I like curves. They can be so graceful and add such character to piece. However, I also understand the frustration of getting pieces to line up perfectly or even begin to look like a curve instead of a dot to dot exercise with lots of short straight lines to make a curve.
Well, I am going to start sharing a few secrets I have learned along the way. First, not all things that look like curves are actually curves. They really are a bunch of straight lines put together to look like curves. Take my Whimsy quilts for example, the wedges are NOT curved. They have lots of strips sewn together, cut into a wedge and then sewn together. Because the wedges are narrow and there are a lot of them, it is an optical illusion that they are curved in Snowflake Whimsy.
If you look closely though, you will notice there is ONE curved piece – the center of the wheel. I really debated this one, should I piece it or should I cheat….. Well, I took the easy way out 🙂 The center is appliqued to the wheel. You can use any type of applique you wish – needle turn (hand applique), machine stitched (turn the raw edge under to give a finished edge), or raw edge (fused and stitched around the edge). Regardless of the method you choose, it will look fantastic. And your blood pressure and frustration level will probably remain low.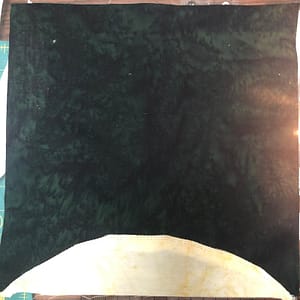 So you are probably thinking, can I substitute applique any time I see curved piecing? The answer is probably yes. But there are a few caveats or exceptions. Let's take one of my latest projects, Meritage (Pattern coming soon). Applique and fusing works well if the fabric is has thicker threads (opaque) or is darker than the fabric it is covering. If the fabric is lighter (density and/or color), you may need to choose your techniques carefully. 
For example, the block on the left was an attempt at machine applique. I could have perfected the curve, but it would have taken a bit of light interfacing to eliminate the shadow of the seam. Do you see it? I did and it drove me nuts. So, I went back to the drawing board and tried the same block with raw edge fused applique. The fusible helped block a little of the color from showing through. The seam allowance was eliminated so the shadow disappeared. Finally, I used the same finishing stitch I would have used on the machine applique – a blanket  stitch. So it is just as secure. It looks much cleaner.
Am a I totally hooked on the applique cheat for curves? No. There are times that I will try both and see which looks better. On Sun King (pattern coming soon), I had two different types of curves. The first curve was for the wedges. It was a gentle curve. This one was easy to do, even without pins or gluing. Taking a few stitches and then adjusting the fabric to align the edges works wonders. It is pretty accurate and takes the same time as pinning or gluing, without the mess. If you want to see an example, check out this video.  On the other hand, the center had more curves in a slightly tighter radius. I experimented with both curved piecing and raw edge fusible applique. I am interested in which you think turned out better. (please add your thoughts in the comments)
For Never Forget, I used curved piecing to add the curved element to Washington's Own (center medallion) and New York Beauty. For Washington's Own, I used a freezer paper technique to crease the curve before it was sewn to provide a cleaner edge. On New York Beauty, I left the paper from the foundation in place and used the "few stitches at a time" method to add the curve. You can see how cleanly they turned out. (I will finish it this year as it only needs four more stars for the corners and the solid border!).
I have tackled quilts with curved blocks, using the traditional method we learned in Home Economics of pin the center of the curves together and then sew the seam from the center out. Repeat on the other side. Those who have sewn sleeves into garments understand exactly what I mean. An example where I used this technique was Old-Fashioned Love. If I had to do it over again, I may have chosen different techniques for different blocks. Experience is a wonderful thing! I still love how it turned out 🙂
So if you see a pattern with curved piecing, there may be alternative ways to tackle the quilt. Keep an open mind and try a different method if you are not confident with curved piecing. Try applique as on option!
Happy Quilting
Laureen