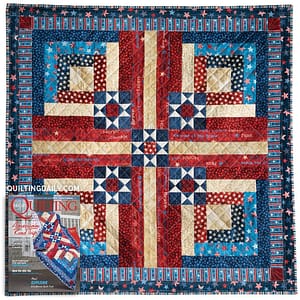 I have some extremely exciting news to share with you today. I am a cover girl for the first time! In actuality, my quilt, All American Spirit is in the cover of McCall's Quilting July/August '24 issue.  The quilt design is a fun blend of stars and log cabin blocks, which is perfect for the summer. The quilt was made with Northcott's Stonehenge Stars and Stripes collection by Linda Ludovico and Deborah Edwards. This quilt was so much fun to make with 2 1/2″ strips.
It has been hard for me to sit on this news. The magazine will hit newsstands (actual and virtual) soon. Since it was shown today in Quilting Daily. I figured it was safe to share 🙂
If you haven't visited the Quilting Daily website, I highly encourage you to do so. It has loads of links to the magazine and my favorite podcast "Quilt & Tell." The lively discussion and talented guest speakers provide loads of entertainment while I am folding quilt patterns. Unfortunately, I can't listen while I sew because I get to distracted listening and end up spending more time with my friend Jack (the seam ripper) than I would like. My reward for pattern folding is perusing the show notes and seeing all of the wonderful things they talked about.
I hope you enjoy All American Spirit and Quilting Daily as much as I do. Please check it out!
Happy Quilting!
Laureen
#mccallsquilting #quiltingdaily @troumalinethymequilts #allamericanspiritquilt @northcottfabric
Facebook:
@McCallsQuilting: facebook.com/McCallsQuilting/
@Quiltingdaily Facebook.com/QuiltingDaily
Instagram:
@mccallsquilting
@_quilting_daily