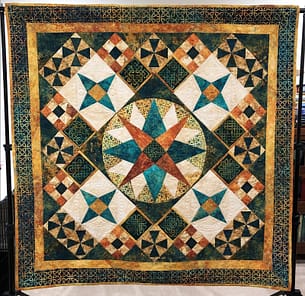 Northcott was celebrating the 10th Anniversary of Stonehenge Fabrics with a Block Party and a design challenge for a Traveling Stonehenge Quilt Display. This quilt was designed specifically for that challenge. Although it wasn't chosen as one of the finalists, I was excited to design a quilt for a specific challenge.
I am in the midst of finalizing the design and it will be available in ETSY as soon as I put the finishing touches on the directions. Most of this is pattern uses foundation piecing.
Please subscribe to this blog or add a comment to this post for more information on the pattern. I will update this post and add a link to the shop when the pattern is available.
Happy Quilting!
Laureen