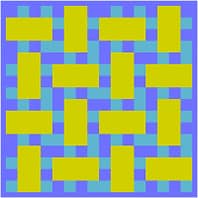 This month, Jenny from EQ8 picked a sashing block for the spotlight. That was a new challenge. I play with sashing blocks quite a bit, but making this one special was my challenge this month. The first debate between me, myself and I was whether to use it as a sash block as listed, or to make it the main block. Given it was a spotlight, we agreed to make it a main block. With all of that negative space in the middle, it might be a great place to showcase a fabric or a motif….Yes – that was it!
As usual, I played with more than one idea. The first was to keep it simple, well kind of simple. Rather than have lots of straight lines, how about alternating the blocks to provide a little interest. Then, I found an interesting fabric for the horizontal rectangles and a light, coordinating background fabric for the vertical rectangles. The squares were filled in with complimentary colors as well. When recoloring the squares, I made sure to flip some of the blocks so that the colors in the corners matched. This provided the optical illusion of a larger square. A tile border was added with the same size squares as the block to make a frame for the quilt center. Then larger solid borders were added. The final touches were appliqued motifs on the vertical rectangles. The results were Flamingo Fandango and Kokopelli Tricks.
I like the effect of these quilts quite a bit, but I had a hankering to try something with a Halloween theme. It is October, so why not.  First, I reduced the number of blocks. Then, I used the same basic idea, but removed the focal fabric and replaced it with appliqued blocks. The motifs were morphed from the EQ8 library to fit the rectangular shape of the blocks. This meant copying the applique onto an easy draw applique block and adding the grids to the edges of the blocks. The colors were switched to purple, green, orange, black, gray, and white to reflect the season. This was to be a fun quilt, so I kept those colors bright. The result – Boo Medley – was definitely something fanciful! It barely resembled the original block.
I hope you enjoy learning about the design process and playing with EQ8. It is something I look forward to each month.
Happy Quilting!
Laureen