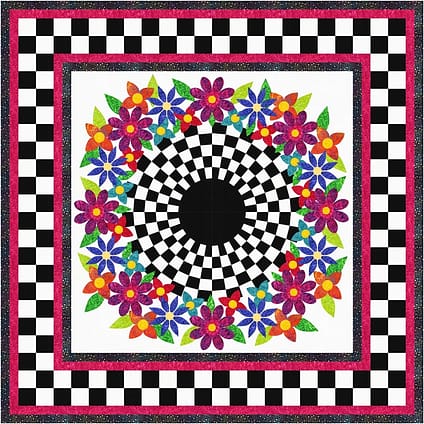 Many of you may be aware of one of my favorite quilts – Snowflake Whimsy. Well, it has a sister quilt. Actually, it has an older sister. Whimsy as shown here is the original Whimsy quilt I designed! It was inspired some artists in New York – Mackenzie-Childs.
So why was Snowflake Whimsy released before Whimsy? It is always a matter of timing. Whimsy inspired me to make a whole series of quilts during the pandemic. In January, I was looking for a project to start, and Snowflakes seemed to be the most appropriate for winter.
Then, Timeless Treasures Tonga Fabric was drafted. It was perfect for Whimsy. Apparently, Timeless Treasures thought so too because it is in their First Quarter Look Book!
I want to thank one of my special pattern testers – Pat Ferrara – for all her patience with this quilt! She created a beautiful version of this quilt. She might have used the Tonga Batik's but they won't be released until May.
If you are interested in trying your hand at Whimsy, the pattern is available in our shop! The quilt is mostly straight-line piecing, no sewing curved pieces. Flowers and leaves are fused and raw edge appliqued. It is easier than it looks!
Happy Quilting
Laureen