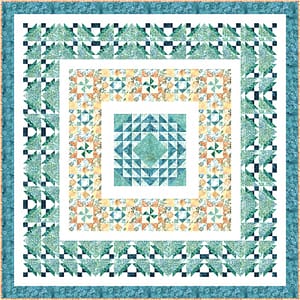 I really enjoy the sea, whether sailing on it or watching it from shore. The sea is temperamental, which gives it personality. I have been on it during storms and calm, but prefer it somewhere in between. It may be a romantic notion to think of the sea to have a personality, but I am a bit of a romantic. In my younger days, I was fortunate to learn to sail and itch to do so whenever I have an opportunity. Cruising on ships that focus on the destinations rather than the mode of transport is my cup of tea. I don't like cruise ships that are giant party boats with endless buffets and casinos.
As someone who likes the sea, it is good to learn as much as you can about it. It isn't just about books. Visiting aquariums or museums and learning from those who live on the sea are so important. I spent a portion of my education learning the history of sailing and naval history. This comes in handy in the most unusual places, like designing quilts.
Victory at Sea is one of those that places where my love of history, the sea and quilting come together. I have used some traditional blocks to create this seaside quilt. The center block is based upon Ocean Wave, a basic block, with a little twist to make it easier to assemble. If you want to sail the seas, understanding Ocean Waves is a must.
To that I added two victory blocks: Dewey's Victory and Hull's Victory. Admiral George Dewey defeated the Spanish Pacific Fleet during the Battle of Manila, which was a crucial battle of the Spanish American War. Because of his military prowess, Dewey was promoted to the rank of Admiral of the Navy, five star equivalent to a general. He is the only American to hold that post.
Hull's Victory was a century earlier. Captain Isaac Hull commanded one of the first US warships, a frigate christened USS Constitution. The USS Constitution had man glorious victories. Hull commanded her during a battle with the British during the War of 1812 against the HMS Guerriere. This victory early in the war not only earned the ship the nickname "Old Ironsides" but provided the morale boost needed for the American Navy.
The last set of blocks is Ships at Sea to form a lovely border. Think about all the ships that are able to sail the seas today because of the strong navies around the world. It is really amazing!
The Victory at Sea design is so beautiful because of the fabulous Hoffman Sand and Sky collection. The glues, greens and tans bring the essence of the sea to this quilt. The finished size is 98-inches square, which is perfect for a bed quilt.
If you are interested in the Victory at Sea pattern, please see our shop. It is available for retail and wholesale.
Happy Quilting!
Laureen