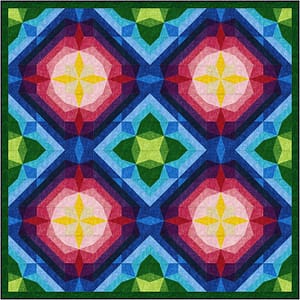 How closely do you look at the blocks when you pick a quilt? Most of us look at the overall design first, then look at the details. The details include the colors, the technique, and maybe the block construction. For quick quilts, we gravitate toward large, simple or repetitive blocks. But sometimes these criteria for quick quilts is well, frankly, a little boring. Boring is fine if you have a cute fabric and need to crank out a quick quilt. But what if you want to make a statement without too much work?
That is where two patch quilts can be the answer. Two patch quilts tend to have secondary patterns that are simply amazing. Venetian Rose is one of those patterns. There are two simple blocks: diagonal stripe blocks and kaleidoscope blocks. It is the placement or color and orientation that creates this stunning quilt. Venetian Rose contains shades of pink, blue, purple and green as well as highlights of yellow in the centers. These sumptuous colors are part of Timeless Treasure's new Venetian collection. The 64″ square quilt can be made a with a few fat quarters of each color and simple cuts.
We hope you will have as much fun with Venetian Rose as we have! The pattern is available for wholesale and retail in our shop. Fabrics will be shipping to shops soon.
Happy Quilting!
Laureen