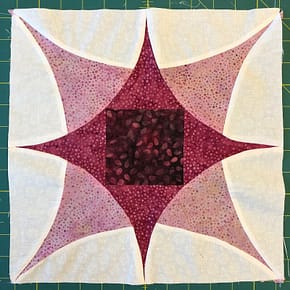 The fourth clue in our Valentine's Day Mystery is the Home Maker Block by Clara Stone, Practical Needlework, ca. 1906. It follows the progression of Lover's Knot, Wedding Bouquet and Farmer's Wife. In Old Fashioned Love, women primarily became homemakers.
This block was relatively easy to make using traditional piecing. Templates were used to cut the pieces to size. Foundations were printed to make sure that the curved piecing was accurate enough to keep the block the correct size.
The trickiest part was to ensure the points were perfect. Typically, quilters use a scant 1/4-inch seam to prevent a block from being too small. However, a scant seam in this block will prevent the points from being sharp. If a scant seam is used, the points will look more like arcs because the white pieces will not merge.
WIth the four major blocks being revealed, how will the quilt come together? Stay tuned as I make the multiples of each block needed for the quilt!
Happy Quilting!
Laureen