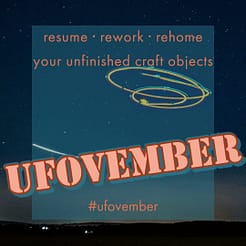 A few weeks ago, I volunteered to write a blog about quilt projects and rework as part of the UFOvember initiative organized by The Geeky Bobbin. The effort is designed to help quilters and crafters minimize the UFOs (Unfinished Objects) in their possession. Use whatever rationale you need to justify dealing with these UFOs. For example – bribe yourself: each one you tackle, you gives you the license to buy more materials. Each one you eliminate means your spouse has to cook dinner. Each one managed is less you have to pay the moving company…. Whatever deal you need to make with yourself to get motivated. Get to it!
The UFOvember series has divided the management of UFOs into four buckets: UFO Inventory, Resume, Rework, and Rehome. If you have been following along, this is the first article in Rework. I guess a good place to start is what is rework. For me, rework has a few option: undo and restart, rethink, and downsize. With each of these three options, you want to make the most of it!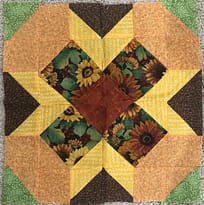 Let's talk about undo and restart. We have all had that project we started years ago and our skills have improved since then. Pride in your work has convinced you that you want the project to have a uniform look, so picking up where you left off is not an option, if you want to save your pride. So, you can take that project apart and start over. This is a great option if the materials were expensive, you are not that far along, you are on a tight budget, or you are REALLY bored. This fall block is a perfect example. It has been languishing for at least 15 years…. I believe I have improved since then. The fabric was inexpensive. I am not low on my stash (quite the contrary). And I am certainly not bored. So this project is not an option for undo and restart. I could rethink it to make the most of it. I could use it as the foundation for a small crazy quilt block where my wonky seams would be covered by lots of embellishment.
Have I ever undone a project? Old Primrose Inn is quilt where I did undo and restart. The top was unfinished because I hit a snag – a few pieces were not sewn in the right order. So I took those apart and finished the quilt top. I even started to quilt it on my long arm. Then, I realized, I was overly ambitious on the quilting. It is now off the long arm, and waiting for the seam ripper, which leads to my second topic – rethink.
When a project is getting stale because you have overcommitted, it is time to rethink. I will take out some of the insane quilting I started and scale it back to a level that is 1) more appropriate to the quilt, and 2) more in line with the time I have. Not every quilt will be a masterpiece. Each one will help you hone your skills to make your own masterpiece someday. That masterpiece will be determined not by the judges on a panel, but the person who cherishes it.
How else can you rethink a project? here is a good example. You bought a kit years ago and it is still sitting on the shelf, because you (or whomever you intended to give it to) no longer loves it. I had one of these. I bought a lovely, reproduction quilt kit in order to make a quilt for my son who was involved in re-enacting. Unfortunately, he really didn't like the kit. So I repurposed it. I had always wanted to try a disappearing four patch quilt. The scrappy kit materials were a perfect fit for this experiment. The finished quilt was donated through my guild to the Wounded Warriors project. This was definitely a case of making the most of it. The kit was off my shelf and a finished quilt was in the hands of a veteran.
Another rethink example could be used for this beautiful little block I made while testing a pattern – Scandinavian Star. The block turned out just as I had hoped with one exception, it was too small… To make the most of it, I will make it into a pillow to accompany the quilt. It will also provide a space for me to practice my quilting before tackling the larger quilt.
What if undoing or rethinking are not an option? Then, you have a third option – resize. Look at what you already have done on the project. What else could it be? If you have the center of a large quilt top complete, but not the borders, make the most of it and turn it into a throw quilt. What if you have a few blocks made? Could they be combined into a runner or placemats rather than a throw? A block can be a pillow or a quilting test piece. Take what you have done and make the most of it from there.
I hope this has given you a few ideas on how to rework a project. Goodness knows, I have certainly reworked more than a few! If you are looking for more ideas, please follow the blogs of a few of my quilty sisters this week: Karen Kehl at Better Done Quilts, Stacey at Two Terrier Studios, Cinzia White, Laura Piland at Slice of Pi Quilts, Rachel at The Barefoot Crafter, or Kathryn LeBlance at Dragonfly's Quilting Designs.
Happy Quilting!
Laureen