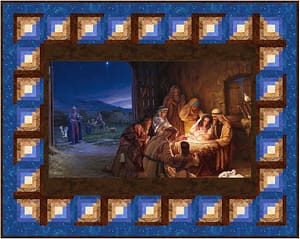 To wash or not to wash – that is the question that many quilters argue. I am on the fence on this one, as I do both!
Here is my advice to you. Follow these simple rules to determine if you want to wash the fabric.
Washable? The first question is if the material

is

washable. Most quilts are made with cotton quilting fabric, which is definitely washable. But some quilts are made with other materials such as silk. Silk can be washed, but VERY CAREFULLY. So, you probably won't wash it often, if ever. In which case, why wash it to start? If it is washable, the answer is maybe.
Mixed with other pre-washed fabrics? If you are mixing and matching fabrics that have already been washed, you want to ensure they are all washed. Why? Because, washed quilters cotton fabrics can shrink 3-5%. If you mix unwashed and prewashed fabrics together, you will get uneven shrinking when you decide to wash it after piecing and quilting. That is not a good look – puckering and warping… If you don't know if the material has been pre-washed, err on the side of caution and wash it.
Overdyed fabric? Many batiks and some highly saturated fabrics are overdyed. This means that extra dye can bleed in the wash. Pre-washing minimizes that bleeding. You can use Synthrapol and/or Shout Color Catchers to ensure the colors don't run. Wash the fabric until the Color Catchers some out with minimal color changes.
Fusing fabrics? The sizing and other chemicals can prevent fusible from sticking as well as it should. Thus, it is best to wash it before you work to remove those chemicals. Of course, this also means you shouldn't use fabric softener when you wash it. That kind of defeats the purpose.
Will final project ever be washed? There are projects that will probably never be washed after you complete them. Examples are wall hanging and crazy quilts. These will most likely never be washed again. you may air them out or run them through a fluff cycle to remove dust. But you won't be adding water and agitation, which could loosen any bling attached to the quilt. In that case, why bother washing it in the first place?
Will quilt be used for kid's bedroom, family room throw, or table topper? Assume quilts that will be used for these purposes will need occasional cleaning. In these cases, I would recommend pre-washing.
Are you starting to understand my thought process on pre-washing? There is no hard and fast rules – just a lot of educated guesses.
If you do wash your fabric, use color catchers and put a few notches on the cut edges to minimize fraying. Don't dry them in the dryer. Dry them with a hot iron, which will minimize your wrinkhintling later. If you starch, do it before drying – it saves you a step later.
If you wash some fabrics but not others, separate them and label them so you know. If you are like me, after few weeks, you will totally forget which are washed and which ones aren't!
Happy Quilting!
Laureen