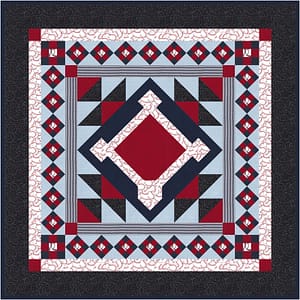 In October, another Tourmaline & Thyme Quilts pattern will be available for use with Timeless Treasures fabric. The pattern is called Big League and is for use with Timeless Treasure's Big League fabrics. The fabrics and pattern are shown in the Timeless Treasures 2020 3Q Projects Catalogue.
As part of an American tradition, this full sized quilt pattern (96″ x 96″) is perfect for your big league player. The layout is reminiscent of the baseball diamond many of us played upon in our youth.
The pattern will be available both retail and wholesale, so look for it coming to the shop soon.
Happy Quilting 🙂
Laureen