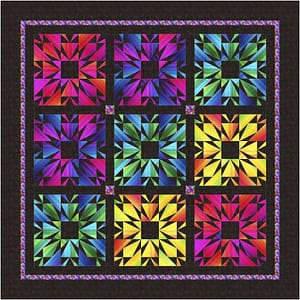 Quilters and other crafters are always looking for a bargain. It is one of the reasons we collect fabric, use coupons, and wait for sales. We love to get a good deal. This search for a good deal even extends to patterns. Quilters scour the internet and Facebook to find a "free pattern." Or we "borrow" a copy from a friend or fellow guild member. This is where we can get into trouble.
So let me give you the good news first. There is such a thing as free patterns, which are perfectly legal! These patterns are given freely by designers, shops, and fabric manufacturers. For example, shops may slip a postcard pattern in with your order, which the shop has already purchased or been given by the designer or fabric manufacturer. Another example is when you download a pattern directly from the fabric manufacturer, like Fractured Mosaic. In these cases, the designer has already been paid by the shop or fabric manufacturer to create and write the pattern; is testing the pattern for future paid publication; or is enticing you to buy more of their designs. Remember, pattern designers are business people too and have to pay their bills. Therefore, they rarely do anything for free. Designers will tell you when the pattern is free. Even then, it is not acceptable to photocopy or share it with a friend, guild or Facebook group. You were given a copy for your personal use, not your personal distribution.
Now, for the bad news. Many patterns posted by groups on Facebook and other internet sites are stolen. The patterns are copyrighted, which means that they cannot be distributed without the author's permission. If you look carefully, most have a statement on the cover to that effect. For example, "©2021 Tourmaline & Thyme Quilts. All rights reserved. Written permission is required to copy and/or distribute copies of this pattern, whether or not you profit from it." Remember, designers earn their living from publishing patterns, so each time you are taking money from that designer. Each time you distribute the pattern, they lose $10-$12. So when your friend then gives that same pattern to another friend, now the designer has lost $20-$24. That buys a few yards of fabric, an hour of their time, or their cost to ship the patterns to one store.
Let's put it another way. Would you go into a fabric shop and just take a pattern off the rack, walk past the counter without paying, and walk out the door with it? Of course you wouldn't. Just like you would not take a bolt of fabric, spool of thread or stack of fat quarters. You know the shop purchased it from a distributor. The distributor bought it from the manufacturer, who had to pay for the labor and materials to make it, as well as the advertising, transportation, and other overhead costs.  Designers have similar costs to develop a pattern. First, it takes some creativity, experience, and a lot of math to design a pattern. Then, the designer has to write the instructions, test the pattern with fabric they generally purchase, revise the pattern, send it to others to test, and then publish it. They also have overhead costs of printing and/or internet servers, advertising, etc. The average pattern can be imagined in a day, but it takes weeks of work and yards of fabric and thread to get it ready for you to use.
Now, there is the gray area. What if you see a pattern, but think to yourself, I can make that without the pattern. This is an ugly zone where my mother would say, "just because you can, doesn't mean you should." The question you should ask yourself is would you have thought of that design without the designer's inspiration? Let's make the question even simpler. Could you create it  without EVER looking at the designer's pattern again? If the answer is no, then, you should pay the designer for their idea. If the answer is yes, congratulations, you are a very creative person and quilt with a clean conscience.
Remember that there are two types of free patterns out there – legal and illegal. Make sure you know which type of pattern you are getting.
Happy Quilting!
Laureen