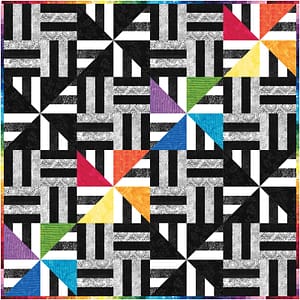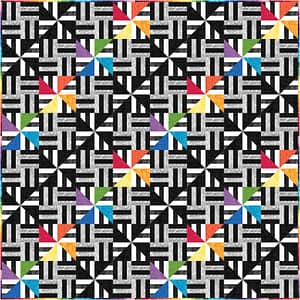 Many of my designs have a traditional feel. I decided to take a break and try something new. I don't usually dabble with quilts that have a more modern feel. But to grow, one has to experiment. When I saw Hoffman's Cookies and Cream (Hoffman Fabrics Fall 2021 Project Catalog by Hoffman California Fabrics – Issuu – page 120), I knew it was time to experiment a little. This beautiful collection of black and white prints was perfect, but I needed to add a pop of color to make it mine. If you look carefully, the binding is a fun rainbow stripe!
Strip piecing and large blocks helps with quick assembly of this quilt. With the current layout, it finishes at 48″ square, which is good for a lap quilt or wall quilt. But you can easily make it larger, so dimensions for larger layouts are included in the pattern.  For example, triple the pattern to make a twin sized quilt. Quadruple it for a stunning queen sized quilt.
Take a Break pattern is available in our shop for retail and wholesale. Fabrics will be shipping to stores soon.
Happy Quilting!
Laureen