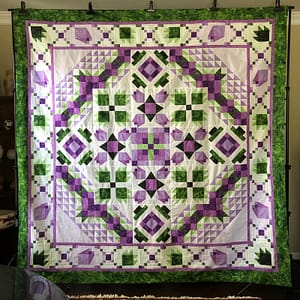 For a few years, I lived in South Carolina. While I was there, I developed a fondness for two things: Sweet Tea and Southern Magnolias.
Southern magnolias are statuesque evergreens that bloom from spring through fall. The giant, creamy blooms stand out against the glossy green leaves, and they smell so sweet. Since they are relatively easy to grow and hardy, they are a staple for Southern landscaping.
Sweet tea is another truly Southern delight. It is anything but powdered tea from a canister. Sweet Tea is carefully brewed tea, mixed with simple syrup in just the right proportions. Served over ice in a tall glass, it is the perfect sipping beverage for a steamy afternoon. Adding lemon, lime or a sprig of mint is not necessary, but can enhance the wonderful flavor.
These two images are captured in my quilt blocks for Sweet Tea: Magnolia Blossom and Tea Leaves (aka Bears Paw). The traditional style blocks and a few of their friends, like cut glass blocks, are made with more modern techniques. Like the southern magnolia tree or the tumblers for sweet tea, this quilt is large. The finished quilt measures 98-inches square. Good for a queen sized bed!
The original quilt was made in four shades each of pink and green because pink magnolias are the most common color after white. Then, I played a little with the other magnolia colors you can find, like yellow and purple. There is a blue magnolia known also as the Cucumber Tree and is an endangered species in Canada. The flowers of the blue magnolia are not really blue, but why not have a blue magnolia block in a quilt? The Hoffman 1895 Watercolors (see catalog pages 42 and 43) really give this quilt depth of color. These batiks really make the quilt rich.
Sweet Tea is a good confident beginner quilt for honing your skills. Since the quilt has nine different blocks, it is also a good quilt to use for a block of the month, quilt along, or block exchange. No special rulers are needed for this quilt, but it is advised to have a variety of quilters square rulers to make this easier.
We encourage you to support the local shops that are carrying our patterns. Some are creating kits or block of the month programs. If you can't find it, you can always purchase Sweet Tea from our shop. We do offer our patterns for retail and wholesale.
Happy Quilting!
Laureen