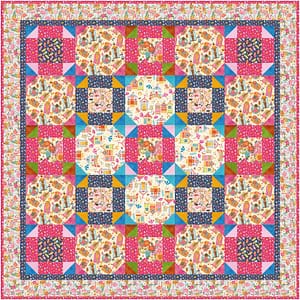 I don't know about you, but I am ready for spring. Around here, spring quickly jumps to summer, which means hot, hazy and lazy. Given my fair complexion, I am not normally a beach bunny. So, if you ask what my idea of a perfect beach day is, my response will include a beach blanket, lots of cool refreshments, a nice breeze, an umbrella to keep me safe, and good book to read. A day just to decompress and be in the moment. Yup, I just went a little zen.
For those of you who just had another snowfall, remember that summer is right around the corner. Think warm thoughts of beaches and picnics. Those days will soon be here. At least that is what I was thinking while designing Summer Squared. This confident beginner quilt is a snap to put together. Summer Squared highlights the summery prints in Timeless Treasures' "Forever Summer" collection. The print has fun finds from flip-flops to flamingos! Summer Squared is a 54″ square quilt that is perfect for beach bathing or picnicking.
We hope that you will enjoy Summer Squared as a quick and easy quilt pattern. It is available from our shop for retail and wholesale.
Happy Quilting!
Laureen