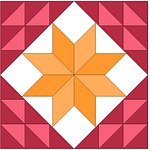 This month, the EQ8 block spotlight is on Birds and Star. In this block, an eight-pointed star is bordered with Birds in the Air units, which consist of three triangles for the birds and six triangles for the sky.
My sister and my niece are visiting me this week. They had fun helping me design this one!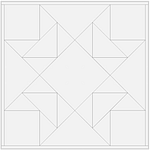 Since this was a star quilt, I decided to use one of the star layouts from the quilt library as a starting point. I picked Star-5 because it provided a bit of room for a large center block on point.
Next, came the complimentary block for the Birds in Star, which I placed in the middle, as the star of the show! As co-stars and balance for this quilt, eight-pointed stars are set in the corners.  Birds in the Air were inserted in the Flying Geese triangles between the stars.  The quilt was starting to look good but needed something special in the setting corners. I designed a block with geese surrounding a diamond, which used both elements of the Birds and Star block. Then, I added a plain border to float the quilt center and a binding.
Given our chilly weather, I went with cream and blue for a palette. It seemed appropriate. I hope you like the end result.
These EQ8 design spotlights are wonderful to help you build your quilt design skills.
Happy Quilting!
Laureen