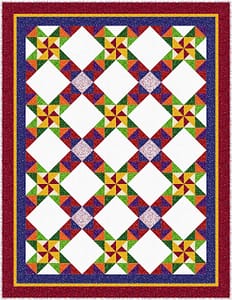 "Star light, star bright,
The first star I see tonight;
I wish I may, I wish I might,
Have the wish I wish tonight."
I am sure we have all recited this nursery rhyme at least once if you have seen a falling star, which is actually a meteor . Each year we have multiple meteor showers. In fact, there is one more this year on December 22nd! If you like to search for stars, here is a great link to know when the next meteor shower will be visible in your area.
This love of shooting stars was the perfect match for Patrick Lose's new fabric collection "Stars".  The Star fabric is beautiful in the quilt pattern Star Light, Star Bright. This pattern features pinwheels and star sashing to make bright twin sized quilt. Star Light Star Bright may look like it is set on point, but that is an illusion!  It is made with stitch and flip technique so great for beginners and comes together quickly. The pattern leaves plenty of negative space for some amazing quilting to make it your own.
The pattern is available for wholesale and retail in our shop.
Happy Quilting!
Laureen