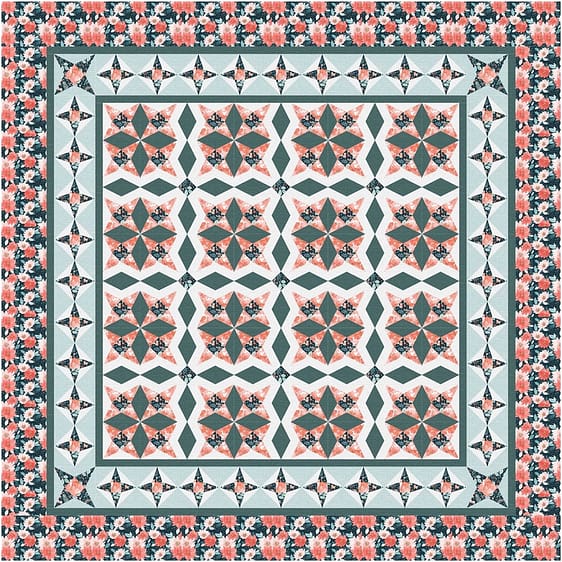 Have you ever noticed that you have a favorite quilt block? Mine is apparently Priscilla…. I like her sharp lines, which is why Spruce Diamonds quilt is full of them! Isn't it fun how stacking four Priscilla blocks together creates a diamond effect?
Sometimes, I make them with foundation piecing and sometimes, I make them with templates. This is a template version for those of you who like traditional piecing, not foundation/paper piecing. Of course, if there is a demand, I can make a second version with foundations for those who like them!
Spruce Diamonds is designed for Dear Stella's "Baby Its Cold Outside" collection, but you can use whatever fabric you like best. The strong blenders for the diamonds make them really stand out, while the patterned fabrics make a soft background.
The quilt with the four by four grid, the quilt finishes at 74-inches square. If you love it but want it larger or smaller, please let me know and I can provide alternate measurements to ensure when blocks are added or subtracted, the Priscilla border will still fit!
The Spruce Diamonds pattern is available in electronic and paper versions from my store.
Happy Quilting!
Laureen