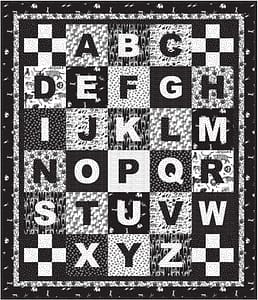 Teaching our children their ABCs is an essential part of their learning. Why not make the ABCs simply fun for kids to learn and easy for parents to teach. Simply ABC will make a great throw or wall covering for a child's room. The large letters and the fun animal prints of Dear Stella's ABC Menagerie provide a wonderful platform for learning while snuggling.  Ask your child to point to the different letters while singing the ABC song. Or play make a game with the letters where they start to spell words. Or maybe a game of letter BINGO. The possibilities are only limited by your imagination.
The quilt is easy to make with large blocks and fusible applique. It is recommended to secure the fused applique with stitching to ensure the letters stay put while your little one uses this lovely lettered quilt.
This pattern is available for retail and wholesale in our shop now. The fabric is due in shops soon.
We hope you enjoy this new rendition of Simply ABC.
Happy Quilting
Laureen