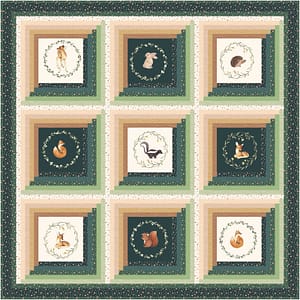 Sometimes, the simplest things in life are best – a cup of tea on a blustery morning, a hike in the woods, or a simple meal with lively conversation amongst family and/or friends. These simple moments are often cherished more than hustle and bustle events because we have the time to savor them.
Quilting can be most rewarding when it is simple. We can savor the time we take to put the quilt together and enjoy every seam – no fighting or fussing. We can take the time to perfect our stitches and be satisfied with our work.
Simple Gatherings is designed to celebrate the simple things. Dear Stella's beautiful fabrics from Little Fawn Celebration collection are the perfect center piece for this quilt. It emphasizes enjoyment in simplicity. The darling images are fussy cut for the block centers, which are then framed in a log-cabin style. The quilt comes together quickly and easily as "logs" are added to each of the blocks. The fabric is available in stores today. The Simple Gatherings pattern is available for retail or wholesale from our shop.
We hope you will enjoy this simple pattern, perfect for beginners who are learning or seasoned quilters who want to perfect their piecing.
Happy Quilting!
Laureen