There is a great debate amongst quilters – should I or shouldn't I wash my fabrics before quilting? My answer is that it depends. I have a series of questions that may help you decide for yourself if the fabrics for your project should be washed before cutting, piecing and quilting.
Question 1 – Is the material you are using machine washable?
Answer 1 – Some fabrics such as dupioni silk or wool are not washing machine friendly. The manufacturers generally recommend either dry cleaning or hand washing for these fabrics. Therefore, I would not recommend prewashing these fabrics in the machine. Frequent dry cleaning may cause the fabric to become brittle. Handwashing these fabrics may be acceptable if you really want to pre-wash the fabrics.
Question 2 – Is the final project meant to be machine washed?
Answer 2 – Projects such as wall hangings and holiday decorations may be washed rarely. Given they may be adorned with beads, lace or other embellishments, they will probably be dry cleaned. In these cases, where washing will be rare, washing before using is probably not necessary.
Question 3 – Are the fabrics hand dyed?
Answer 3 – Dye saturates the fabric for hand dyed fabrics, whereas the ink sits on the surface of printed fabrics. The dye saturation means that there may be excess dye, which should be washed out or set by pre-washing the fabric. The ink on printed fabrics is much less saturated, so washing is not necessary to set the color.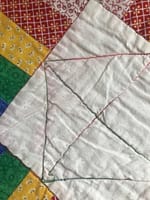 Question 4 – Are the fabrics bright colors?
Answer 4 – Bright colored fabrics such as red, pink, orange and violet have a tendency to bleed in warm water more than other colors, or at least they are more noticeable. For this reason you may opt to wash the fabric in cold water to set the dye.
Question 5 – Is the fabric a lower, unknown or mixed quality?
Answer 5 – As mentioned in a previous post, fabric quality is a major factor in fabric shrinkage. If you have a variety of fabric qualities or low fabric qualities, then the fabrics may shrink at different rates. This could result in puckers and warping, especially if the project is not densely quilted. Pre-washing the fabric will minimize this shrinkage issue.
Question 6 – Are the fabrics pre-cuts?
Answer 6 – I don't know about you, but prewashing precuts is a headache. The smaller pieces may shed more, resulting in more fabric loss than with larger pieces. Thus, washing smaller pieces may not be beneficial.
After answering these questions, you may have decided to wash your fabrics. How do you do this most effectively? My recommendation is to wash in cold water, tumble dry low and iron immediately. If you have delicate fabrics or are afraid of shrinkage, hang the fabrics to dry. If you choose this option, it is best to do the same with the finished quilt.
Hopefully this decision tree will help you!
Happy quilting