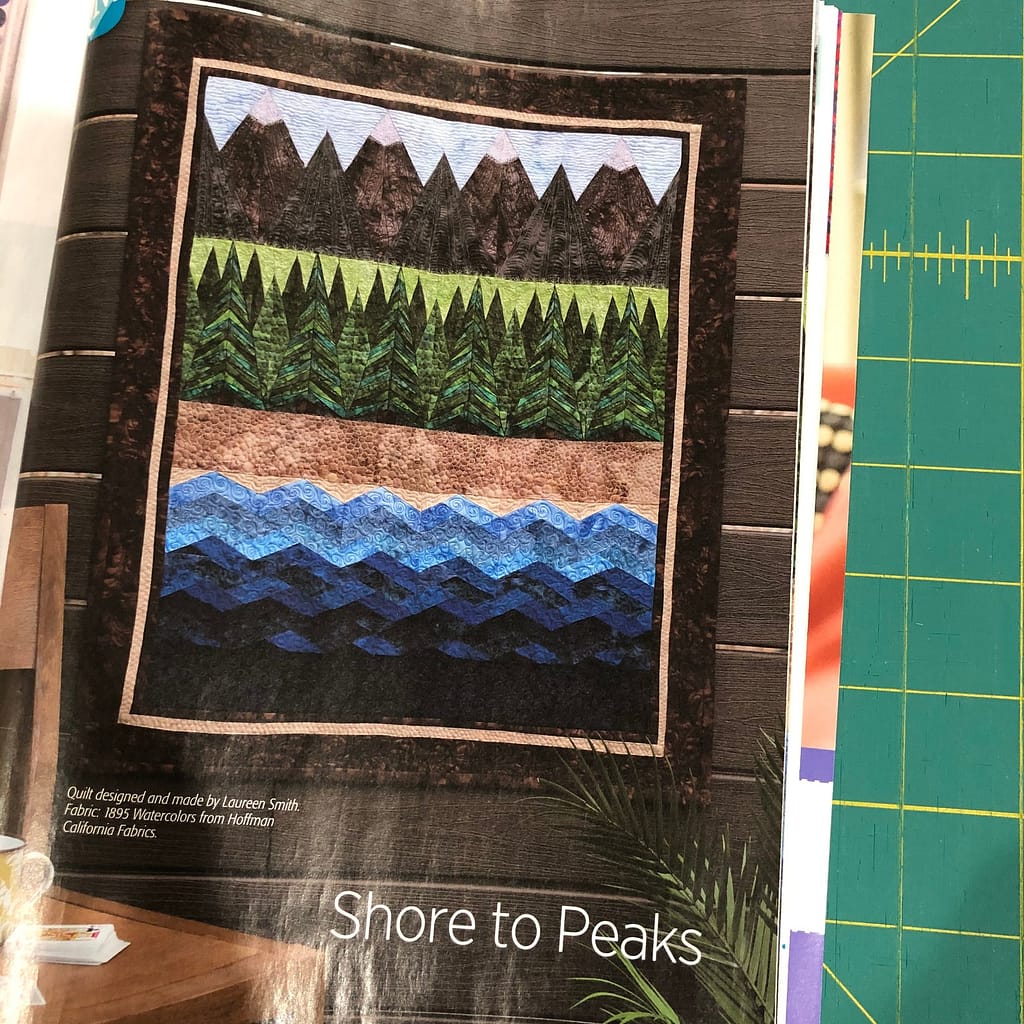 I have some very exciting news to share with you today! Short to Peaks has been published in Quiltmaker's July/August 2021 issue! It is a foundation pieced pattern made from Hoffman of California's Watercolors. The editors at the magazine did an amazing job of not only writing the pattern, but showing the free motion quilting I used for it!
Shore to Peaks is the first pattern I have had accepted and published by a magazine, so this is quite a special moment for me. I am so grateful that Golden Peaks Media accepted my idea submission and walked me through the whole process. For those who are curious about the process, it goes as follows. You submit and idea. This works best if you are responding to a design call from the magazine. They give you an idea of what they are looking for, when the design is due and when the finished quilt must be received. After you submit, you sit on pins and needles waiting for a response. Once you get notification to proceed and pull yourself out of the clouds, the work begins. You submit measurements, sketches, fabric requirements and all the info you will be using to create the quilt. Then, you start making the quilt, taking lots of pictures as you go as that helps the pattern writers capture your methods. When the quilt is complete, you mail them the piece, stifling your excitement about completion and anxiety about the shipper losing it. You relax once you know it is safely in their hands and acceptable. The anticipation begins to build as you await publication. It increases once you receive your precious quilt back again. Then, you try desperately to contain yourself until you receive your very own copy of the magazine, proof that you really did it!!!! But your wait isn't over…. you can't share until the copies are on the shelves. I am not sure if the emotions run this high each time you get published, but it certainly did this first time.
I also want to thank the folks at Hoffman Fabrics of California, especially, Kim Deneault, my representative, who helped me to obtain the fabrics that were not already in my stash. This was a bit of magic, given the state of fabric distribution at the time. For my quilty friends, you will understand that obtaining the fabric of your choice during 2020 was a bit of a challenge.
Hopefully, you will all pick up a copy of Quiltmaker and browse all of the wonderful patterns in this issue. Not that I am a little biased at the moment….
Happy Quilting!
Laureen