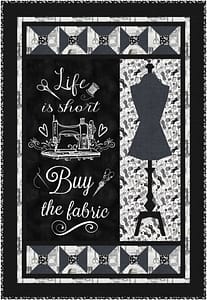 Bespoke is word not many people are familiar with in our day and age, although quilters can apply it to almost all of their creations. What does it mean? According to Merriam-Webster, bespoke means custom-made or dealing in or producing custom-made articles. All hand-made quilts are bespoke. They have our own customizations, even if they come from a kit.
A century ago, quilts were bespoke, as were most people's clothes. It didn't matter if your mother, wife, grandmother, seamstress, or tailor made them. You were measured and the clothes were made to fit you. Today, that is almost a lost art, captured by those few who attend fashion design school. I was fortunate to get a taste of this from a woman who specializes in making civil war costumes. She taught us how to customize a catalog pattern to our measurements on a piece of paper, transfer that design to muslin to ensure the fit, and then sew a traditional dress. I made a full outfit, which occasionally comes out of the closet.  Maybe that is a photo opportunity for another time…I was a lot of work, but so worth it. It truly helped me to appreciate the time and talent of dressmakers. That elaborate experience, also helped me to understand the value of a dress form. It is much easier to adjust the form to your size and then make garment alterations, than to alter the garment while you are trying to wear it!
The value of a dress form was the inspiration behind "Sew Wonderful". Sew Wonderful is a trifecta for quilting: panel, foundation piecing and traditional piecing. The fabrics and apropos panel are from Timeless Treasures "Fabric Lovers" collection. Measuring 43″ x 63″, the Sew Wonderful is a wall-hanging suitable for any seamstress, sewist or quilter.
We hope you enjoy this new pattern. Sew Wonderful is available in our shop for retail and wholesale.
Happy Quilting!
Laureen