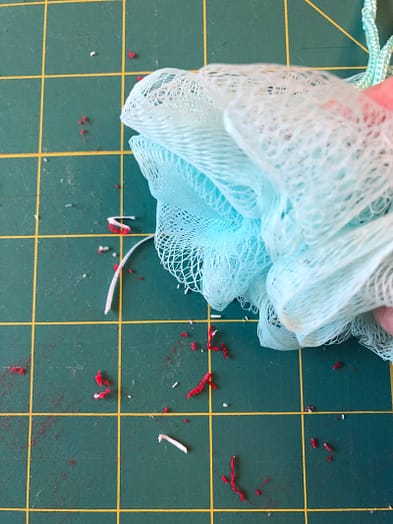 Several years ago at a quilt guild meeting, I won a scrubbie, like the one you use in the shower, and I didn't understand what it had to do with quilting. But, I kept it in my quilt basket hoping one day I would figure it out.
A few years ago, I was watching YouTube and heard another quilter mention using the scrubbie. So there must be something to this scrubbie thing. I poked around YouTube and the Internet to find out how this could help me.
It turns out, it is a great tool for cleaning your quilting mat! You see, when you cut a lot of fabric the same size, in the same spot on your mat, tufts of threads get stuck in the mat. Do you see the tufts of white at the top of the picture in the middle grid? Or do you see the white lint in the cut on the far right grid of the picture? When this lint is stuck in the mat, the mat cannot heal. This causes the mat to wear out more quickly.
This is where that elusive scrubbie comes in. Use it to scrub the mat and it will remove those tufts of thread that are embedded in the mat. Soap and water are not necessary – a dry scrub is all that is needed. You would be amazed at how much lint is stuck in your mat.
If you are really good, you will wipe that lint right into the trash. If you aren't so good, you will just wipe it onto the floor for the vacuum to get later. I am not so good….
Happy Quilting!
Laureen