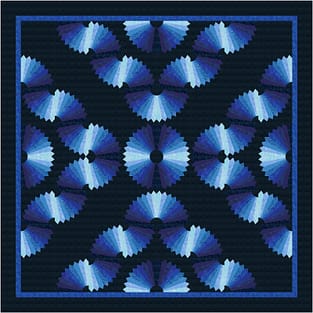 This quilt is a third in my twisted Dresden Series.a It has been so much fun playing with the blocks to get different images.
Sapphire Nights is a little different from the first two in the series because it make use of some negative space between the twists. This provides room to show off your quilting!
Each quilt in the series features a different color gradient. However, the gradients can be switched between patterns if you like one color more than another!
Like the others, this one is available in my Etsy store, by eCommerce store and QuiltWoman.com.
Happy Quilting 🙂
Laureen