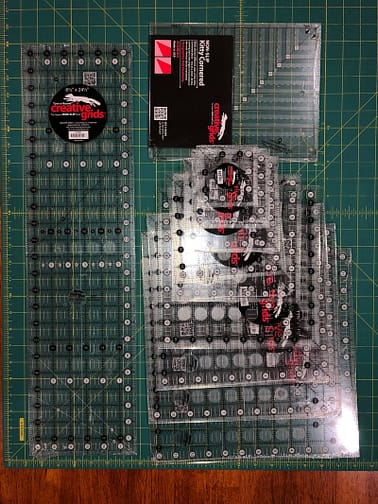 Have you ever found yourself struggling while you are cutting your fabric? I found myself pushing down harder on the ruler to hold it in place. I tried adding nonstick tape, but I never seemed to get it in the right places. Meanwhile, my rotary cutter seemed to take more and more effort to cut the pieces all of the way through. It was becoming a chore to cut fabric. It was not as much fun as it had been. As an avid quilter, I had to find the solution.
Well, the solution was really simple- retool. First, I changed the blade in my rotary cutter. What a HUGE difference! Don't hesitate to change the blades when cutting gets a little tough. Now, I will say you need to be very careful when changing the blades. The blades typically come in packs of five. The blades stick together because of the grease used to prevent them from rusting. I have found gently sliding them apart works best. Using a pair of tweezers to remove the old blade and place the new blade in the handle works well. It is also recommended to put the old blade in cardboard when you put it in the trash. Even though it won't cut fabric well, it can still tear through a plastic bags pretty easily. The first retool step was a success – new blades cut so much better.
The next step for retooling was to invest in new rulers from Creative Grids. Why? They have wonderful grips built into them. No more sliding rulers, which means that my blocks will be just a little more square. I purchased a variety of quilt squares, a long ruler and Kitty Cornered ruler (for a new project). I purchased mine through the Fat Quarter Shop rather than Amazon. Why? Because counterfeit items are being sold on Amazon. I would much rather support a USA company's legitimate production.
With those two changes, cutting has become so much easier and more fun! What retooling have you done to make your quilting easier?
Happy Quilting!
Laureen