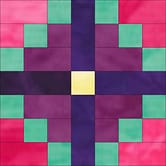 This month, the EQ8 Block Spotlight was the Flower Weave Block. It is a contemporary block within EQ8. The Block Spotlight is a monthly challenge, which encourages each of us to get out of our comfort zone and try something new.
I I took the block and placed it in a variable block quilt layout. This was the first time I have used either the block or the layout. This is the time to experiment! Then I colored the blocks in a bright spring palette. Much to my surprise, the block formed hearts on the angled blocks.
The trick will be to figure out how to piece it!
Happy Quilting
Laureen