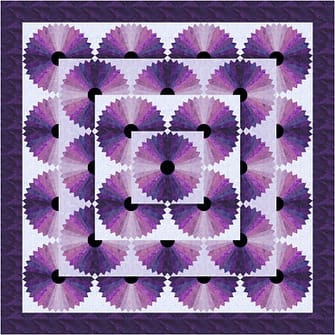 Jimi Hendrix meets Dresden Plate to create Purple Craze! Purple Craze is the latest in my Dresden Plate designs. The gradient of purple is like the smooth sound of Jimi's music interrupted by the sharp points of the plate design.
Ok – maybe a little too psychedelic for this quilt, but it has a bit of an edge to it. If you want more edge, substitute one or both light backgrounds for the Deep Amethyst used for the centers. It is amazing how changing the background changes the feel of the quilt.
This pattern is now available in my Etsy store, online shop, and at QuiltWoman.com.
Happy Quilting 🙂
Laureen