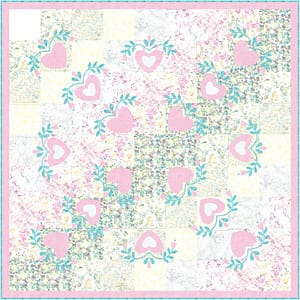 Puppy love… that first crush, so sweet and innocent. Each of us probably holds our own memories of puppy love, which still brings a secret smile to our faces. That person you remember so fondly from your childhood. Some will swear it wasn't puppy love, but the real thing, as Paul Anka did in his 1960s hit song. And some of those were fortunate to have it grow into something even more beautiful as they aged.  Yes, I am a romantic at heart.
When I saw Hoffman's Rainbow of Pastels collection, I was reminded of my own puppy love and the times that surrounded it. It was a time when girls wore "Love's Baby Soft" perfume and passed notes to each other in the hallway. We dreamed of prom and pretty Gunne Sax dresses. Two of the top heart throbs were Michael J. Fox and Patrick Swayze. We listened to FM radio and knew all the words to songs like Olivia New John's Xanadu and, to our parent's chagrin, Pink Floyd's Another Brick in the Wall. It is amazing how fabric can evoke feelings and memories. It may not be as strong as smells like my mother's apple pie, but still thought provoking.
So what do you design when a fabric brings you back to such a place in your life? You design a quilt that also reminds you of that time. Puppy Love uses the beautiful batiks as a backdrop, like the gauze and lace of our prom dresses. Then, I added hearts and flowers as quilt corsages. The overall effect is a precious pieced top ready for you to embellish with quilting, and maybe some embroidery.
We hope that Puppy Love can bring you to a happy place in your memories as well.
The Puppy Love pattern is available in our shop for retail and wholesale. Fabrics should be ready to ship soon.
Happy Quilting!
Laureen