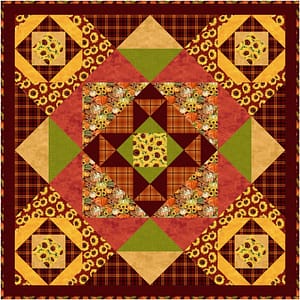 When fall comes around, I want to pull out my turtleneck sweaters and plaid jackets. I know it sound a little old fashioned, but I love my plaid in the fall.  Maybe it is a bit of my heritage shining through. Or maybe I just like the look of beautiful colors woven together to make a beautiful plaid.
Fall also reminds me of sunflowers, mums, apples, cider and pumpkins. Growing up in Upstate New York, these fall sights and smells were everywhere, and they remind me of home.
Northcott's Autumn Afternoon collection combines these two fall favorites. The fabrics include fall foliage, pumpkins and plaids. This collection was used to create Plaid Picnic, a quilt with large blocks to show off the beautiful fabric. The quilt is the perfect size (52″ square) for a fall throw to keep you warm during an autumn outing.
We hope you enjoy this pattern. It is available for retail and wholesale in our shop.
Happy Quilting!
Laureen