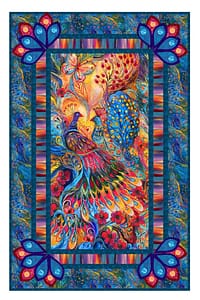 Apparently, I have a penchant for peacocks. There is something about their majestic, jewel tones that makes them spectacular to watch. At almost every zoo I have ever visited, I was greeted at some point by a beautifully, plumed male peacock. If I was lucky, he would be showing off his fantastic feathers. Most of the time, they were just strutting about the place as if they owned it, finding scraps to eat or crowing at something. After watching them for a while, you can understand where the phrase "proud as a peacock" originates. But I don't care, I still think they are marvelous to watch.
Other fowl act in a similar manner, but they lack those fantastical feathers. The closest I have seen is the American Turkey. Not the ones stuck in pens on a farm, but the wild ones. When I lived in Western New York, we had flocks of wild turkeys. One evening, I was driving down a back road from my parent's house to my house, when I came across a very large flock of turkeys. There were about fifty of them crossing the road. I slowed down to avoid hitting them. (I like turkey, but really had no desire to pluck my own). I thought that they would move a little more quickly as I approached them. If you didn't know, turkeys are stubborn creatures. They decided to play a game of chicken with me and I lost. I was soon surrounded by the flock of turkeys. My car was short, so as I looked out the window, I was eye to eye with the silly birds. I tried honking my horn, flashing my lights, and yelling at them. They refused to move. The hens were pecking at my car and the male was preening like, well, a peacock. You have heard the saying that it is hard to soar like an eagle when you a stuck in a flock of turkeys. Well, it is absolutely true. You are stuck. Thankfully, a farmer came along in a tractor and that enticed them to get out of my way…..
At any rate, I digress. I like peacocks and so do the designers at Timeless Treasures. In the past two years, I have had the fun of designing three quilts with their peacock prints! The latest of these is Fanciful Feathers. The quilt features a beautiful peacock panel. It is surrounded by simple mitered borders. (If you don't' like mitered corners, you can do regular borders). The corners are adorned with appliqued peacock feathers. They can be hand or machine appliqued or fused. Use the method you like best.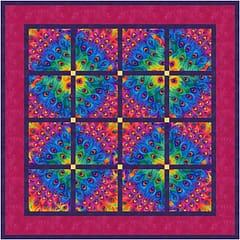 Two other Timeless Treasure peacock quilts are Peacock Prism, a simple fussy cut quilt, and Tail Feathers, a panel quilt with a wedding ring frame. As you can see, I do have a penchant for peacocks!
Happy Quilting
Laureen