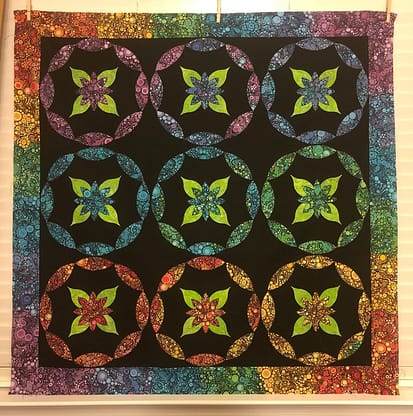 Today was quite rewarding! I sewed the nine squares together and added the border according to the instructions. I was pretty happy with the results. Now, I just need to start quilting it!
I learned so much on this quilt. First – I really like fusible applique. The method is so quick and provides beautiful results. Second, Sue Pellands rulers make quick work of cutting curved pieces with pretty accurate results. Third, the buttonhole or blanket stitch can be a bit tricky around the points, so I would prefer the satin stitch for outlining the pieces. Finally, I enjoyed the online class as I could do at my own pace.
If you get a chance to take one of Sues class, it is worth the time.
I will definitely use this technique in future quilt designs.
Happy Quilting
Laureen