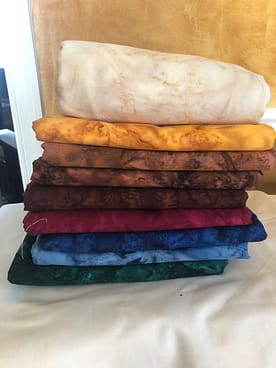 Recently, I was asked how I purchase fabric for my personal projects. Do I buy online or at a fabric store. The answer is – it depends.
Like most quilters I am attracted to sales and shiny objects. I will buy yard collections if they appeal to me and find a project for them later. I also can't resist a sale, so I will purchase a few yards of fabric I like that could be used later. In other words, I build my stash. That has come in handy when I impromptu decide to do a quilt like the AQS Big Block quilt. I already had the fabric, so gave it a shot.
However, when I have a specific project in mind, I usually go to the fabric store to find the exact material I want. For me, seeing the fabric and how they blend together as I stack the bolts on top of each other is critical.
It is hard for me to see the interaction on the internet. That is not to say I haven't tried. I will put a few bolts of fabric into the online shopping cart. Then, I go to the cart to see how they blend. When buying online, it also helps to pick fabrics from the same collection as the manufacturer has already matched or coordinated those fabrics. Sometimes that works, but it isn't quite the same as seeing things in person.
Either way, I tend to buy more than I need to ensure I won't be short. When I run short, I have to hope the shop has more of the same dye lot. Fabrics of different dye lots may look the same, but some may not. Therefore, I need to be careful to how the different dye lot is incorporated into the quilt to ensure it isn't obvious.
How do you shop for fabric?
Happy Quilting
Laureen