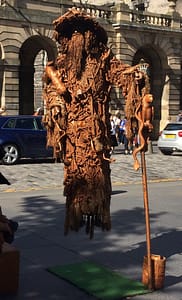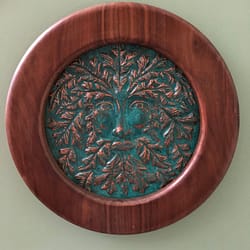 I come from a long line of nature-lovers and half of my ancestors hail from Ireland. So it is no wonder that the Celtic version of the Green Man has interested me. He has been popular in art for millennia across the globe. He adorns churches, gravestones, and homes. It is believed that he began as a Celtic symbol of rebirth, man's connection with nature. The church possibly recast this pagan symbol as resurrection and rebirth of Jesus Christ.
Today, the Green Man is most closely associated with being eco-conscious. He represents the understanding of man's interaction with and respect for nature. He is found in festivals around the world. I captured a fantastic version of the Green Man during our visit to Edinburgh, Scotland. He appeared to be floating in the street! I even have a version hanging in my home. This beautiful copper piece was purchased at a craft fair in Aiken, SC.
The Green Man has many seasons. The most popular one we see is of summer or fall, when the leaves are full. But there are versions of spring with buds and blooms. Likewise there are versions of winter with bare branches and skulls, which are most often found on graves and in crypts.
As you may have noticed, I find him everywhere! This is why I created my own autumn version as the Old Man of the Forest, which is an applique quilt. He is made of leaves, antler, and acorns, which the Hoffman Fawn and Fauna fabric collection depicts so well. (See Page 89 of the Hoffman Fall Project Catalog). This frame is appliqued with mayapple motifs. If you choose to make this, you can use any applique method you like. Personally, I will be fusing him an embellishing with some embroidery after quilting. At 38-inches square, he the perfect size for a wall hanging.
While we waited for fabric to be shipped, Joanne Fitzgerald, one of my amazing pattern testers, made a version of the Old Man of the Forest from her stash. Isn't he adorable! I cant' wait to see how he looks once she has him quilted!
If you are interested in The Old Man of the Forest, my Green Man, he is available in our shop for retail and wholesale. Hoffman's Fawn and Fauna collection will be in shops soon.
Happy Quilting!
Laureen