We are so excited to have published our latest catalog. Catalog – October 2021
The catalog contains a few old favorites and dozens of new patterns! Not to worry, many of of our older patterns are still available on our website. We just decided to prioritize and send the latest and greatest to you.  We continue to design patterns for Dear Stella, Timeless Treasures, and Northcott. But now we have added Hoffman Fabrics and Windham to our portfolio as well. You will see more of these added to our next catalog. It is thrilling to see so much wonderful fabric from all of these manufacturers. We have lots of new stuff coming your way. Even more fun is making these quilts! If you would like to be on the email distribution list for our catalogs, please send an email to lsmith@tourmalinethymequilts.com and we will make sure you get them.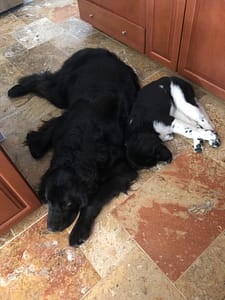 We have more good news to share. We have been welcomed into the Checkers family! This means that some of our patterns will now be available to shops through Checkers Distributors. That is a huge step for us. Of course, we still have our patterns available for retail on Etsy and for retail/wholesale in our e-shop.
As my regular followers know, our bear Fergus has a new little sister, Rigby. Now, that she is settling into a routine, especially for sleeping at night, which means more rest for me! Thankfully, Fergus lives up to the nanny reputation of Newfoundlands and is taking very good care of Rigby. She is in major growth mode now, so I take advantage of her long naps as much as I can. I am tackling lots of projects, mostly piecing. Then, I will work on the longarm backlog!
If you want to see the progress on the latest projects, I try to post regularly on Instagram (@ttquilts). Sometimes, I am working on a whole quilt. Others, I am testing blocks for new patterns. It all depends on my publication schedule. In general, my patterns for new fabric lines come out as the fabric is scheduled to start shipping. Of course, the shipping crisis is still underway. So they aren't always in sync.
We are always looking for pattern testers, so if you are interested, please send me an email and we can chat about it.
Well, Rigby is napping, so it is time to get sewing!
Happy Quilting!
Laureen