A year ago, I designed Never Forget in honor of those who died on 9/11. The quilt blocks include Washington's Own, Pennsylvania Crossroads and New York Beauty – the sites where the terrorists struck. The stars on the large quilt number 64, which are the number of states and territories in the US. This is the next quilt in my Quilts for a Cause series.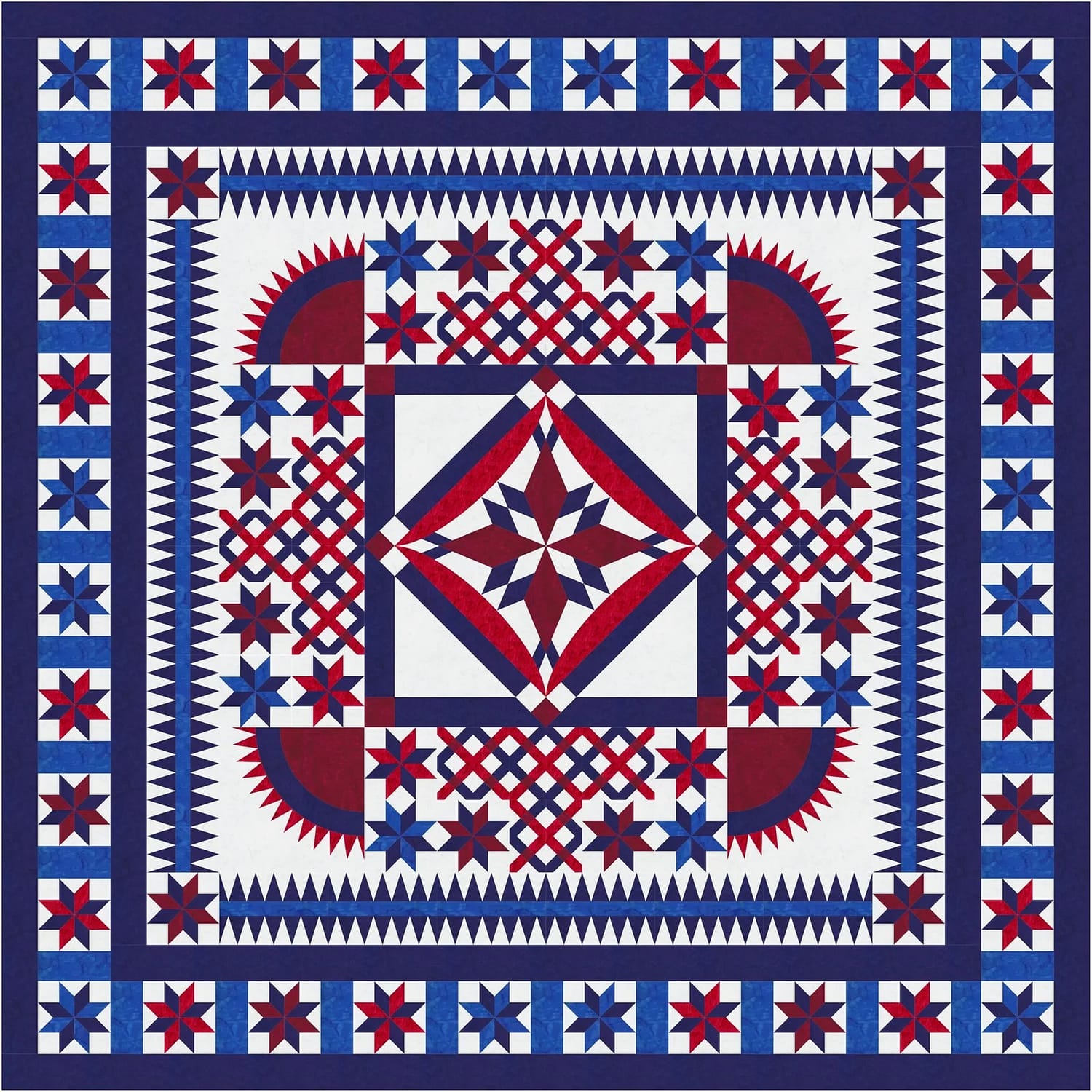 The larger quilt measures 90-inches square and the smaller quilt measures 72 inches square. It uses a white fabric, two reds and two blues. I chose to use Hoffman Watercolors because I love their depth (snow, ruby, red, cobalt and lapis). All of the colors are available from my online shop.
It will be available in two ways: free on Facebook or for purchase in my store. The Facebook quilt along will be in a dedicated Facebook Group starting September 1st. A new step will be introduced each week: 1) fabric, 2) Washington's Own, 3) Pennsylvania Crossroads, 4) New York Beauty – center, 5) New York Beauty – border, 6) stars, 7) assembly, and 8) show and tell. During those 8 weeks, the pattern will be free to participants. Help will be provided and video clips of assembly for some trickier parts will be provided. After the 8 week period, the instructions will be removed from Facebook. So please make sure to join us for September and October.
The quilt pattern will also be available in my online shop and in my Etsy shop. For those who buy the pattern on the first Tuesday of the month, the profits will be given to Tuesday's Children.
If you know someone who was touched by 9/11, if you are making a quilt of valor, if you just want to make a patriotic quilt, please join me in making this one.
Happy Quilting 🙂
Laureen