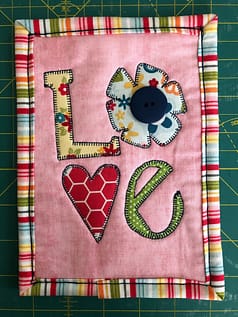 As I organized my studio, I found lots of gems. Dozens of kits I had bought or assembled, but had not started let alone finished. I found fabric I forget I had and some I wondered why I ever had in the first place. It was a good time to purge, re-organize and prioritize. The job is almost done, but not quite. When it is, I will share photos!
One of the little gems I found was a cute mug rug kit I bought several years ago. It was the perfect project for a little me time on Mother's Day. It was also a good project to practice my raw edge applique. The project took me less than two hours to complete and gave me a nice sense of accomplishment. One little project was off my list.
Have you ever noticed that sometime completing a little project like a mug rug, post card, or runner gets your creative juices flowing? You can use that satisfaction to jump to the next project and get it a little further along. I always have one of these little primer projects around for just that purpose. How about you?
Happy Quilting!
Laureen