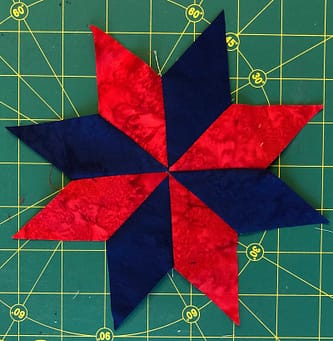 Yesterday, I shared how to cut perfect diamonds. What do you do make with those perfect diamonds? Stars! Eight-pointed stars often scare new quilters and even some seasoned ones.
So what scares them, one of three things:
Cutting the diamonds, which we addressed in yesterday's blog;
Dealing with the bulk at the center of the star, which we will discuss today; and
Sewing Y-seams for the background, which will be the next post.
Minimizing the bulk at the center of the star is all about the spin. So let me walk you through the steps.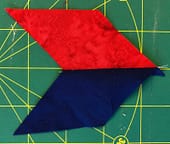 Step 1 – Sew four pairs of diamonds together. In this example, we will use Red and Cobalt. Always start sewing about ¼-inch from the point (acute angle). Leaving this room helps with the spin I mentioned. It also will prevent your sewing machine from eating the tips. Sew toward the corner (obtuse or wide angle) and stop about ¼-inch from the edge. If you oversew, don't worry, we can back it out later. I do it all the time. Note, you want to back it out, not rip it out. Backing it out will leave threads that you can pull later to tighten the seam if you need. Then, press (not iron) the seams all in the same direction. In the example, I pressed them all toward the Cobalt. It doesn't matter which side, just be consistent!
Step 2 – Nest two pairs of diamonds together, face to face. Since the seams were pressed in the same direction, the seams will nest well together. Start stitching at the seam near the points, which will be the center of the star, to the corners. Again, press the seam in the same direction as you did in Step 1. This makes half of a star.
Step 3 – Nest two halves of a star together. The seam is made in two parts. First, sew from the center of the star to the edge. Cut the thread. Then, start from the center again and sew to the opposite edge. Now comes the spin.
Step 4 – To prevent bulk, all of the seams need to go the same direction. Since the rest of the seams were all pressed to Cobalt, so will this one. That means, you need to loosen or back the seam out from the seam to the edge of the fabric. Then, spin the one seam so that you have a mini pinwheel in the center. Can you see it? Do you see all pieces pressed to the Cobalt so the Red seam allowance shows? When you flip the star over again, do you notice that it lays flatter? There isn't as big of a bump in the center. Now your sewing machine or longarm won't choke or avoid the centers.
Now, that you have a shining star, we can work on the background tomorrow.
Happy Quilting! 🙂
Laureen