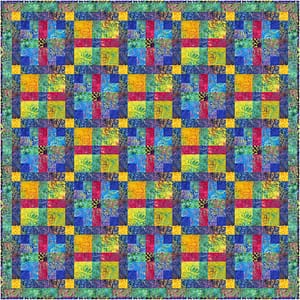 Being of Irish heritage, plaid was an integral part of our family growing up. I can't remember seeing my grandfather without plaid. Sometimes, he would even wear two plaids at once. That made most of the fashion-conscious women of the family cringe. He would just smile and tell us that he was well coordinated, he was matching patterns not colors. Do any of you remember having conversations like this with your dapper granddad?
Whether the plaid be wool, flannel or cotton, we all wore it proudly.  As for colors, the louder the plaid, the better. Of course, our ancestors came to the US in the late 1800's so none of us had a clue as to what our family tartan looked like. Our ancestors were probably rolling over in their graves as we wore the tartans of their clan enemies…. We just loved plaid.
With this love of plaid being thoroughly ingrained in me, it is fun to replicate some of the patterns in quilting. When I saw the Tonga Melody collection, I saw plaid. Not Irish or Scottish plaid, but Madras Plaid – the bright plaid of summer clothing worn on warm summer days. Madras plaid has been a status symbol for centuries, so why not have make a quilt with an equal status?
Madras Madness is strip pieced so comes together quickly. It finishes at 67″ square so is good for a throw or picnic blanket. The quilt consists of two alternating blocks, so it is easy to add/subtract blocks to make it the size you would like.
The pattern is available in our shop and kits will be available in your local quilt shop soon!
Happy Quilting!
Laureen