This is not a new concept, but it may be the first time it is called a machine massage! The idea is to exercise your machine by having it go through each of your stitches. If you are going to take the time to do this exercise, why not have something to show for it.
Here is my recommendation. Make a quilt top using a jelly roll. Then, find a contrasting or coordinating thread for top stitching.  Here is the plan.
Determine how many blocks you may need for the test. Divide the number of stitches for your machine by 32. My machine has 189, not including the alphabets. Therefore, I will need six blocks. Each block will require four strips.
Pick a jelly roll (about 40 strips, each measuring approximately 2 1/2″ x 42″). Divide the roll into four piles (Pile A, Pile B, Pile C, and Pile D) of equal color or value. Each pile will be a strip for a block. For my quilt I will use six strips from each pile.

Sew one strip from each pile together to make a strip set.  Start each strip from the opposite end to minimize warping. Press the seams all the same direction. The strip set will measure 8 1/2″ x 42 1/2″.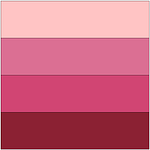 Cut each strip set into four 8 1/2″ x 8 1/2″ squares.
Sew four strip squares together to make a rail fence block. Press and trim to 16 1/2″ x 16 1/2″ square.
Sew together the number of blocks you need for your machine. It could be 1 x 1, 1 x 2, 2 x 2, etc. Mine will be 2 x 3.
Make a quilt sandwich. Add 8 inches to the width and length of the quilt top to calculate the amount of batting and backing needed. Baste the quilt sandwich together with fusible, pins or stitching.
Now for the fun part! Pick a thread that will look good and show off your stitches.
Using a removable marking tool (hera, chalk, disappearing ink, etc.), draw a line down the middle of each strip. It should be at the 1″ mark and be 8″ long.  Make sure to test marking tool to ensure it disappears! If using disappearing ink, mark only a few lines at a time. Be careful using markers that iron off. They can reappear in cold weather. Not to mention, the heat may melt your batting!
I recommend running through your stitches in the order presented on your machine. You can skip the buttonhole stitches and do those separately on charm squares for coasters. Pick a different stitch each time and sew along each seam and drawn line. Make a map of the stitches and the machine settings as you go, this map will help you when you want to pick stitches for other projects later. If you run out of stitches before your finish, pick a few of your favorites and customize the settings.  An image with the stitch lines is shown on the right.
Trim to the quilt and bind it.
Now, you have a nifty throw or runner and a reference for all of your stitches! If you have given your machine a massage before, pick custom settings for your stitches. These make beautiful donation quilts.
Our next topic is Buffing It Up. If you missed our last topic, it was Sewing Machine Makeover.
Have fun massaging your machines and let's see those exercise quilts!
Happy Quilting,
Laureen