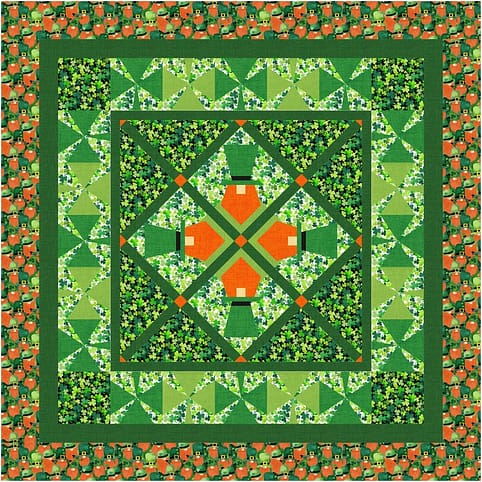 Everyone is Irish on St. Patrick's Day or so the saying goes. When my sister and I were young, St. Patrick's Day was one of our favorite holidays. As Irish Dancers, we were very busy and loved every minute of it. Even now, I start clapping and find my feet tapping when Irish music is playing. How about you?
Celebrate your luck of the Irish by making this 50-inch square table topper or wall hanging just in time for St. Patrick's day. Luck of the Irish was designed for Timeless Treasure's new "Lucky Guy" collection, which is due for shipment December 2020. The little leprechauns – Lucky Guys – were so adorable. I couldn't resist turning one of the Lucky Guys into foundation pieced blocks for the center of the quilt. What would an Irish quilt be without shamrocks? Luck of the Irish has a foundation pieced border of shamrocks surrounding it.
Luck of the Irish pattern is available in our shop for both retail and wholesale.
Happy Quilting!
Laureen
ps Please sign up for our Blog to learn more about this quilt and other upcoming quilt patterns.