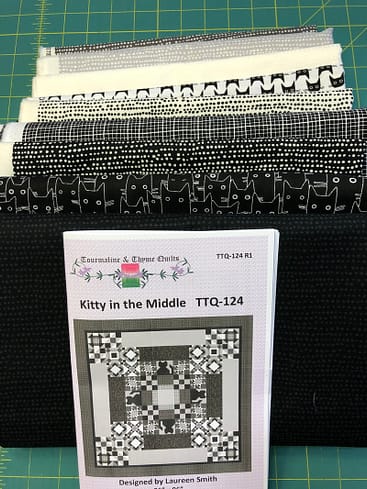 Les Chat Noir (the black cats) fabric from Dear Stella has arrived in shops! I was so excited to get my fabrics. As a designer, I see the pictures of the fabrics before they are released, but they always look so much better in person! The little kitty faces (LW1170 White), silhouettes (LW1769 Black), and plaid (LW1771 Black) will look great in this pattern.
The Dear Stella Moonscapes collection used as accent and background fabric has subtle, and sometimes not so subtle white dots on the solid fabric. It looks so nice with the Les Chat Noir prints.
I know not everyone likes cats, let alone black cats, but I have a little black cat named Edmund who loves to help me quilt. He was the last of his little left when we adopted him. He was 9 months old, out of the cute phase and in the awkward stage. He was an absolute lovebug from the time we met him. In fact, we often refer to him as Velcro kitty because he sticks to you so well! At any rate, I like black cats, even if you can't see them as they wrap around your ankles while you walk at night (which I believe is how the superstition of them being bad luck started).
Because I like black cats, this fabric will be perfect for my quilt. If you like calico cats, then sky is the limit for your fabric choices. Or maybe you like jungle cats, so would like to try some animal prints. If pink and grey kitties are your favorite, look for pastels and grays. Regardless of the fabric you choose, this will be a fun quilt that will hone your quilting techniques as we work our way through eight cat themed blocks. If you are interested in the fabric, please let me know and I will order more.
Please join us in the quilt along. The pattern is on sale through January 31st. The quilt along is free with the purchase of the pattern. So please join us as we start this lovely quilt in February!
Happy Quilting!
Laureen